Books
---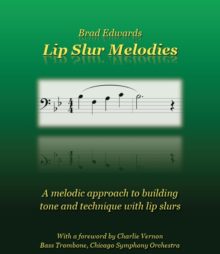 ---
---
---
---
Compositions
24 Concert Pieces
For Intermediate/Advanced students.
More information (including recordings)
---
Circadian Suite
(trombone octet)
Commissioned by the trombone studios of Tennessee Tech and the University of Delaware, this is two 3-movement suites that can be combined into a 6-movements suite lasting almost 20 minutes. Below is a video of the Washington Trombone Ensemble performing the Night Suite.
Night Suite

Night Falls (…and the goblins emerge) [3:30]
Lying Awake (with persistent thoughts) [3:30]
Amygdala Firing (and no dream is safe) [3:30]

Day Suite

Fanfare for the New Day (…and you're late) [3:00]
. Leisurely Park Lunch (with a glass of Glass) [4:00]
Driving It Home (and beating the rush) [2:00]
Here's a 2019 performance of Night Suite by the Washington Trombone Ensemble.
---
Three Calls
(for unaccompanied trombone)
Three challenging pieces for advanced players.
ITA Frank Smith competition piece (2023)
ATW National Solo Competition Division 3 competition piece (2021)
Mystery (2:30)
Frenzy (2:30)
Serenity (3:00)
---
Blue Wolf
(for unaccompanied trombone)
Available from Warwick Music (sample score from Warwick)
Available from Hickeys Music
---
BoneWeek Fanfares (free!)
Seven fanfares for trombone octet, each written for International Trombone Week.